Probably the first impression that many people will get of St. Declan's is the striking and unique building in which the school is housed. Built in 1853, it is indeed one of Waterford's landmark buildings. It has a long association with education in the city and today it is home to an energetic, vibrant, multicultural and inclusive school with a strong Catholic ethos. Through the curriculum, experienced teachers provide the boys with a wide variety of opportunities to challenge and develop their talents.
St. Declan's has a long and proud sporting tradition, a green conscience and a charitable heart. I hope your son enjoys the "St. Declan's experience" here with us and that you as parents/guardians will join with us and work together in promoting all that's good about our school.
School Ethos and Mission Statement
St. Declans School is a Catholic Primary School under the patronage of the Roman Catholic Bishop of Waterford and Lismore. The school aims to teach pupils in accordance with the rites, practices and doctrines of the Catholic Church while at the same time have regard and respect of beliefs of others.
Education in St. Declan's is based on a holistic approach – having regard for the child's spiritual, moral, cognitive, emotional, imaginative, aesthetic, social and physical development. These values are reflected in the methodologies and objectives of the Revised Curriculum (Govt. of Ireland 1999).
The pervading atmosphere of the school will be one of harmony – promoting respect and tolerance of difference. Pupils will be enabled to learn in an environment which is safe and secure so that each individual can realise his full potential and take his place in society with confidence.
General Information:
Mrs Ciara Parris is Principal of St. Declan's since October 2022.
St. Declan's is a Roman Catholic School under the Patronage of the Bishop of Waterford and Lismore. It is an all-boys primary school with classes ranging from Junior Infants to Sixth Class.
Presently there are 23 teachers employed in the school including the Principal, 16 class teachers and 6 teachers as part of our Special Education Team. There are also 9 SNA's and 4 preschool teachers working in the school.
Timetable:
Junior & Senior Infants 8.30 a.m. - 1.10 p.m.
1st – 6th Classes 8.30 a.m. - 2.10 p.m.
St. Declan's National School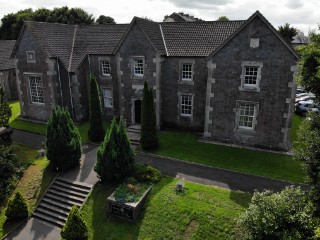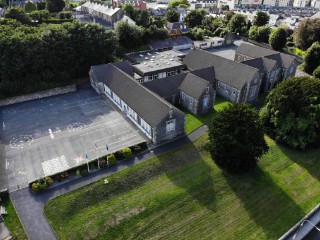 History of St. Declan's N.S.
In 1932 the Protestant Bishop of Waterford agreed to allow three vacant rooms in the Church of Ireland Model School in Water Street to be used as a school for the local Catholic boys. The De La Salle Brothers agreed to conduct the school, and so on 3rd October 1932 St. Declan's School was founded. The first Principal of the school was Brother Bernard Foley. His two assistants were Brother Oliver Rice and Brother Leo Carr. The first pupil to be enrolled in St. Declan's was Austin Curtin.
There were two schools under the one roof – the Church of Ireland School with its three teachers, the new Catholic School with its three Brothers – the old model school, the new St. Declan's. Surely an unusual and rather ominous set-up, unheard of anywhere else in Ireland but with good will on both sides the staffs works harmoniously together and assisted each other in every way.By 1945 St. Declan's had over 200 pupils while the Church of Ireland School was reduced to two teachers. After consultation between the Catholic and Church of Ireland Authorities and the Ministry of Education, it was agreed that a new school should be built in the grounds for the Protestant children and the existing school should be handed over to the Catholic authorities and modernised. The finished building comprised of twelve classrooms, an assembly hall and ancillary offices all under one roof. The school was beautifully furnished in latest style and had accommodation for 450 pupils. Five extra classrooms were built in 1982.
The De La Salle Brothers continued to conduct the school until 1994. On 31st August 1994 Brother Finbar O'Keeffe retired as the last De La Salle Principal of St. Declan's.
On 1st September 1994, Mr. Eamon O'Mahony was appointed as the first lay Principal of St. Declan's.
On 3rd October 2022, Mrs Ciara Parris was appointed as the first female Principal of St. Declan's
St. Declan's school will always cherish its De La Salle Spirit and tradition. The De La Salle "Signum Fidei" crest is still the St. Declan's crest and almost all the pupils of St. Declan's transfer to De La Salle College when they have completed their Primary School Education.
back to top