St. Declan's Pre-School has been operating within the National School for over the last 20 years. Our friendly, qualified and professional team are Cathy Wallis (Manager), Marina Flynn, Olive Halloran and Sinead Hanrahan. Our Pre-School is committed to promoting quality based early childhood care and education. We provide a happy, safe environment where children can learn to explore while developing their own unique individuality. At St. Declan's Pre-school, the staff will help and allow the children to reach their full potential whatever level that may be. We focus on activities which meet each child's needs.We aim to provide exciting and active opportunities to young boys for their physical and cognitive development.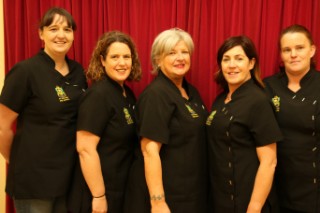 Our play based curriculum is run in conjunction with the National Council for Curriculum and Assessment (NCCA) and the Aistear curriculum. Boys become involved in a wide range of activities such as art & crafts, drama & music, sand & water and numeracy & literacy. The boys enjoy a colourful range of indoor and outdoor activities.We are regularly out and about and can be seen exploring various places like the People's Park, City Library, Santa Express in Kilmeaden and the Geo Park.
We provide an Open Door policy and enjoy working in partnership with Parents. The boys work and talents are displayed throughout the year. Parents have the opportunity to come along to particular events like our Art Week, Christmas Concert, Sports Day and our Graduation Ceremony.
We know that "BOYS WILL BE BOYS" and we welcome the opportunity to meet your son…..
Mission Statement
We at the Pre-School in St. Declan's, at all times aim to deliver the highest quality and standard of care working in partnership with parents, staff and St. Declan's School.
Enrolment
For further information on enrolment, please go to the "Enrolment" tab on the home page of this website.